The Short Pompadour hairstyle for men is currently back in fashion. This way of styling hair became popular in the 1950s thanks to the rock star Elvis Presley. Since then, this iconic haircut has evolved, giving rise to different versions. In this article, we will show you the two best short Pompadour hair styles that are in trend and that you should know to apply with your clients. But first, it's necessary to know how to work them, and here, we'll give you all the keys. Keep reading!
Classic Pompadour
This style involves wearing long hair on the top of the head, combed back and lifted to form a high pompadour, while the sides and back are kept short. This style is recommended for men with square or angular faces, and can be further personalised with different hair lengths or beard styles.
Learn this salon friendly style working with thick & dense hair that has natural movement in. Understand how to control and choose the correct methods and lengths to get the best out out of this type of hair finishing it with a clean taper fade.
OBJECTIVES
Successfully map out the haircut
Create shape and structure in the haircut
Beautiful blend on the taper fade
Analyse natural hair movement and behaviour
TECHNIQUES
Layering & graduation techniques
Fading Methods
Hairline shaping
Styling tips
TARGET AUDIENCE
TECHNICAL SKILLS
Scissor Control
Texturising
Clipper work
Sectioning patterns
Hair characteristics
Hair distribution
Cutting angles
Pompadour Skin fade
This cut is perfect for those who are looking for a modern style, but without losing the essence of the Pompadour. It is achieved by cutting the hair into different layers from the top, at the same time, each of these layers must be textured with various products to achieve that messy but casual look. This style is highly recommended for all those with curly or thick hair.
Watch this step-by-step tutorial on a modern classic while gaining confidence in applying a combination of shapes and techniques from clipper work to scissor work for complete clarity in how to approach this look.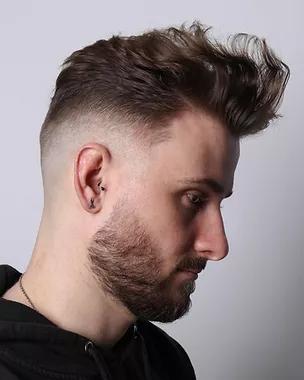 OBJECTIVES
Successfully map out and section the haircut.
Create shape and structure in the haircut.
Create a seamless blend with the clippers.
Analyse natural hair movement and behaviour.
Combine various male hairdressing and barbering techniques.
Use a variety of hairdressing tools.
Work with texturising techniques.
TECHNIQUES
Layering & graduation techniques.
Hairline shaping.
Clipper work – Mid fade.
Styling tips.
TARGET AUDIENCE
TECHNICAL SKILLS
Scissor Control.
Texturising.
Fading methods.
Sectioning patterns.
Hair characteristics.
Hair distribution.
Cutting angles.
No matter the time that goes by, the Short Pompadour style continues to be a current trend. And it´s no wonder why! Thanks to its versatility and elegance, this style never goes out of fashion. With these courses that we offer, you will gain enough confidence to put it into practice with your clients and take your career to the next level of success by performing this cut perfectly.
In addition if you want to keep improving and getting further on your career as a barber, you can't fall behind on the current trends in the world of fashion and beauty. On our online platform, we offer you a wide variety of tutorials so that you can learn new techniques and styles, from the most modern haircuts to techniques of colouring and caring for hair. Additionally, you can access them at any time and from anywhere, allowing you to take further your career at your own pace. You can learn at any time and anywhere by clicking here.